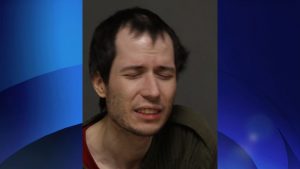 Toronto Police are asking for the public's help in searching for 36 year-old Andrew Smith, an inmate who escaped police custody at Mount Sinai Hospital.
Smith had been jailed under charges of carrying a knife and uttering death threats to a University of Toronto security guard. The suspect complained of considerable pain while imprisoned and requested medical help. He was brought to Mount Sinai Hospital to undergo treatment, while handcuffed to the hospital bed and under Toronto Police supervision.
Despite the security lock-down, Smith managed to escape his bed shackles and leave the hospital undetected.
Andrew Smith, pictured above, is described as male 5'11" in height, weighing approximately 130 pounds with brown receding hair, and wears glasses. He was last seen in a navy-blue sweater, brown pants, and dark shoes.
Police are asking the public,  if they see Smith do not approach him under any circumstances. Instead, call 9-1-1 immediately.