Written by Sian Mitchell, Interactive elements by Hailey McAdams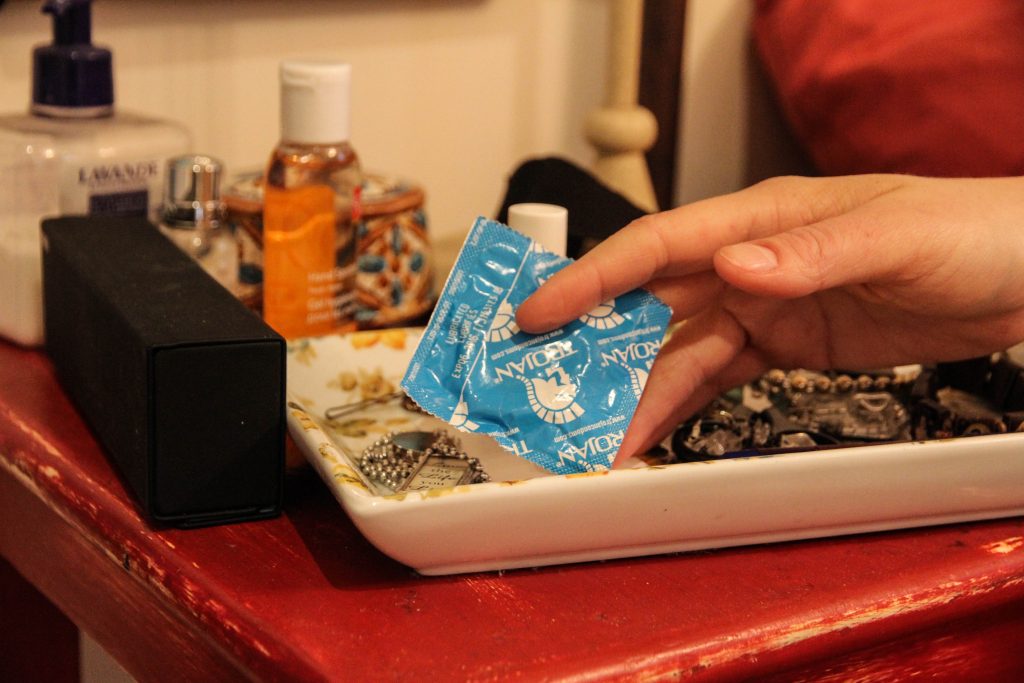 Researchers at the University of Guelph are calling for more sexual health education programs targeted towards middle-aged single Canadians.
The need for these programs was emphasized in a study the university just released, which revealed that Canadians between the ages of 40 to 59 years old are using condoms less than the younger generations.
An online survey of around 2,400 people indicated that female respondents were more likely to engage in sex without condoms than their male counterparts. Seventy-two per cent of the women surveyed did not use protection the last time that they had sex, compared to 65 per cent of men.
These findings are not surprising in light of increasing rates of sexually transmitted infections (STI's) in middle-aged Canadians. Even though young people under the age of 25 still have the highest rates of STI contraction in Canada, the number of Canadians over the age 50 diagnosed with these diseases has doubled, according to a 2012 study.
The hike in infection is not specific to any one STI, but is occurring all across the board. For example:
Between 2011-2015, rates of syphilis in men aged 40 to 44 skyrocketed by over 2000 per cent in Alberta.
Between 2003-2012, chlamydia rates in Canada went up 267 per cent in women 60 years and older and 190 per cent for women aged 40 to 59.
The Hepatitis C rate in Canada is twice as high in 50 to 79 years olds compared to those aged 14 to 49.
Let's [not] talk about sex
The Public Health Agency of Canada says that a lack of knowledge about sexual health among older Canadians is one of the contributing factors to the increase in STI's. This gap in education is due in part to the majority of sexual health programs being geared towards adolescents and young adults rather than other age groups.
Along with the low chance of pregnancy in women over 50, the education gap may also explain why older people are less likely to use condoms. About 58 per cent of the University of Guelph's survey participants said that they were either not really concerned, or not concerned at all, about contracting an STI. This stands in stark contrast to the fact that the rates of infection among their population are rising.
According to Public Health Canada, healthcare providers are failing to give their patients the proper amount of information. Older adults are just as likely as young people to participate in risky behaviours such as unprotected sex or drug use. However, health practitioners often assume that this population are past their prime when it comes to experimenting in high-risk activities.
This assumption has serious consequences.
Not only are patients not as likely to be given information about how to protect themselves from STI's, but they are also less likely to be screened or tested for infection by healthcare workers. This silence can be deadly as Canada Public Health reported that people over 50 are not as inclined to ask questions about sexual health.
Facing facts
Canadian taxpayers are going to have to brace themselves for an increase in healthcare spending. As the over 40 population ages, the cost of the health care needed for this demographic will only get higher.
The Canadian Institute of Health Information says that $6,300 is spent on health care for individuals in Canada. Once people reach 65, this cost rises to over $11, 000 per year. Add in the cost of treating STI's to these totals and taxpayers could be in over their head.
However, as baby boomers, who make up 29 per cent the population, head into retirement, there will be less tax payers to foot the bill for higher costs. It will fall on millennials to support retired seniors.
The Director of Applied Epidemiology at the Ontario HIV Network told the Oakville Sun that the cost of treating a person with HIV is over $1,000 per month. Rates of older people contracting HIV, one of the more extreme cases of STI's, have gone up as well.
The most recent data from Stats Canada shows that the average age of divorce for men and women is between 42 to 44 years old. This means that this demographic will once again be entering the dating world where they will encounter new sexual partners.
Technology makes it even easier for newly single middle-aged people to date. It also makes it easier for people to contract STI's. A 2015 study linked online dating platforms like Craigslist to an increase in the rates of HIV cases in the U.S. This data is worrisome, as a growing number of older people are using online dating sites. Twenty-nine per cent of women over 40 surveyed by Men's Health said that they have sex on the first date.
Canadians are living longer and enjoying their sex lives just as much as ever. The government and health practitioners need to face the facts and educate people of all ages about sexual health if they want to save lives and money.