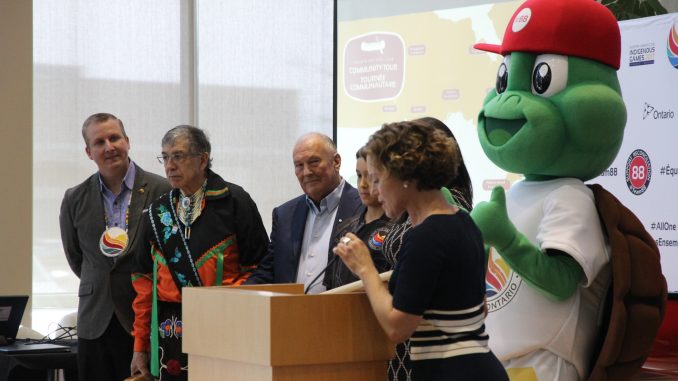 When buzz began to circulate that The Weather Network (TWN) would be making an announcement with executives and ambassadors of the North American Indigenous Games present, questions abounded:
Would TWN broadcast the games?
If the network would not stream the week-long sporting events taking place in multiple cities, what role would the Weather Network play in the historic event?
The Oakville Sun was indeed present at the announcement, and the main message turned out to be exactly that: a partnership was made, and it was an important one.
The press outfit accompanying the North American Indigenous Games includes a multitude of vibrant banners, a wall, and a brilliant red canoe.
On each of these, the number 88 is found.
At first glance, sports enthusiasts might assume that 88 refers to a jersey number.
It is so much more. Marcia Trudeau-Bomberry, CEO of the Games explains:
"Eighty-eight is one of the Calls to Action of the Truth and Reconciliation Commission. Eighty-eight calls on all levels of government to support long term Indigenous athlete development and for support of the North American Indigenous Games." She adds, "What we're looking to do through this campaign is tell the national story of Indigenous athletes through these Games and through the platform that these Games can provide."
The Truth and Reconciliation Commission was established on June 1, 2008 as a component of the Residential Schools Settlement Agreement. On June 11, 2008, the Federal government acknowledged Canada's role in the traumatic legacy of assimilationist policies including the residential school system by making an apology to survivors.
The TRC Calls to Action were made possible through redress and they seek to chart a path forward to healthier nation-to-nation relations.
It turns out The Weather Network does not intend to 'go into sports': instead, it has responded to the eighty-eighth Call to Action, and is proud to do so.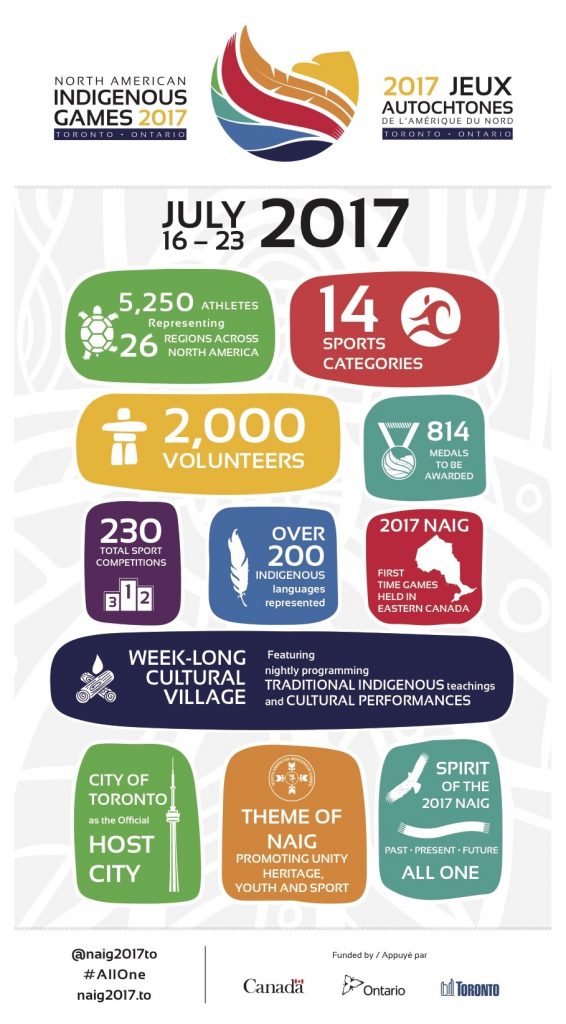 Pelmorex Media CEO Pierre Morrissette had this to say: "Today we're especially recognizing the Indigenous People, who really are the founders of this country. They, together with every other diverse member of our Canadian community, are people we've been partnering with since the company was founded in 1988."
That is an interesting and important coincidence- that a company founded in '88 is now, on the cusp of Canada150, choosing to respond to TRC #88. Morissette continued,
"We're proud to partner with the Toronto 2017 North American Indigenous Games to showcase such a wonderful event with a long history of sportsmanship and strong cultural traditions to Canadians across the country. As a strong supporter of youth mental wellness programs, we're proud to partner with such a great organization because of all the good work they are doing for the community and Indigenous young people."
Naturally, The Weather Network will provide weather information ahead of and during the Games, but it will also feature live reporting that will share the stories of Indigenous athletes.
It will also provide editorial content over the course of the Toronto 2017 NAIG Community Tour, which began on April 13.
Morrisette's statement aligns with the spirit of The Truth and Reconciliation's #88 and it's preceding Call to Action, #87.
Sports and Reconciliation
We call upon all levels of government, in collaboration with Aboriginal peoples, sports halls of fame, and other relevant organizations, to provide public education that tells the national story of Aboriginal athletes in history.

We call upon all levels of government to take action to ensure long-term Aboriginal athlete development and growth, and continued support for the North American Indigenous Games, including funding to host the games and for provincial and territorial team preparation and travel.
What does any of this have to do with the weather? The answer: Shared space.
As Canada approaches its 150th birthday on July 1, and anticipation gears up toward the North American Indigenous Games held in Toronto July 16-23, shared space and reconciliation is something all Canadians can celebrate.