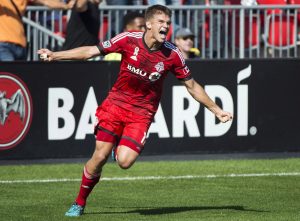 The Toronto FC are looking to stick with much of the formula that brought them within a single penalty kick of the MLS title last season.
The team announced today the signing of defender Nick Hagglund to a multi-year contract extension. The deal comes in the wake of TFC's off-season signing of Congolese defender Chris Mavinga, as the club looks to bolster its defensive line.
Hagglund was a former 10th overall pick of TFC back in the 2014 draft. The 24 year-old helped lead his club to the MLS finals last season, anchoring coach Greg Vanney's three-man back line.
Hagglund has taken great strides in improving his game and fitting into Vanney's scheme. The right-footed defender has put in considerable work on using his left foot, to serve as a better fit on the left-back position he most often slots into on the team.
Toronto FC  began their season with two ties, the most recent a 2-2 draw against Philadelphia Union. TFC will play Saturday when they visit the Vancouver Whitecaps, with kick-off at 4:00 PM Eastern Standard Time.