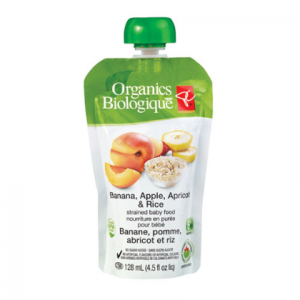 Loblaws has issued a Canada-wide recall on PC Organics Strained Baby Food Pouches sold in its stores prior to February 9, 2017, in the wake of consumer complaints regarding babies becoming sick after eating the product.
Loblaws stated in a press release that a manufacturing error allowed for more water than usual in the pouches, which could potentially allow for the growth of bacterial strain called C. Botulinum.
"To date, there have been no confirmed illnesses associated with this recall," Loblaws said. "While the issue relates to a very small subset of products no longer available for sale, in the interest of customer trust, President's Choice welcomes anyone with uncertainty about this product to return it for a full refund,"
"Recalled products should be thrown out or returned to the store where they were purchased," the Canadian Food and Inspection Agency said.
The recall affects dozens of products sold under the PC Organics brand, and you can find the entire list here from the Canadian Food Inspection Agency.
C. Botulinum leads to food-borne botulism, which can cause an array of symptoms including blurred and/or doubled vision, drooping eyelids, nausea, vomiting, abdominal cramps, slurred speech, difficulty breathing, and even death in infants.
The products affected by the recall were sold in stores across Canada, including specifically in Ontario:
Fortinos
Loblaws
No Frills
Real Canadian Superstore
Real Canadian Wholesale Club
valu-mart
Your Independent Grocer
Zehrs
Shoppers Drug Mart
and affiliated independent stores
The full list of retailers who sold the baby food can be found here.
Loblaws says anyone who purchased the recalled products can return them to the stores they purchased them from for a full refund.