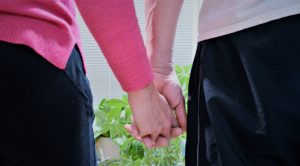 Violence against women and children is unfortunately something that is not new. It is an ongoing issue that is all around us. Whether it happens to us personally, to someone we know, or it is heard about in the news, we are all affected by its dark shadow. According to the Chief Public Health Officer's Report on the State of Public Health in Canada for 2016, data shows that 1/3 women will experience physical or sexual abuse in their life.
One local agency in St. Catharines has created a positive impact for their community. In their 40 years of operation, Gillian's Place has been providing women and children with shelter, counselling and access to programs during a time where they may be leaving abusive situations. Gillian's Place has been a staple in the community, looking to help in anyway they can. Gillian's Place Community Development Assistant, Valerie DuRoss said, "We provide women and children have a safe haven, a place where they can actually begin to heal from what is often years of abuse (whether physical, emotional, financial etc.)."
PROGRAMS PROVIDED
Programs that are provided by Gillian's Place have helped countless women and children with crisis in their lives. DuRoss said, "These programs are designed to offer a woman the best chance of healing from abuse, and starting a new life, free from violence." Various support programs are offered and vary by the needs of the client.
These programs include:
24-hour crisis line
Safety planning
Legal assistance and advice
Transitional support
Counselling
Child and youth programs
Counselling and public education
Shelter providing 35 beds
Since each situation is different, Gillian's Place can aid in any area, from helping women find affordable housing, to applying for Ontario Works or other programs to ease their burden of starting over. Gillian's Place aims to make sure that women are set up with items that they need to start over. Whether it is a toy of their young child or kitchen items, these programs are built as a safety net. This would help women transition back into their regular routines without the aid of the shelter. DuRoss said that Gillian's Place, "continues to assess and revise their programs to make sure that they are what women need."
The History of Gillian's Place

EVENTS ARE CRUCIAL TO ONGOING OPERATIONS
Events throughout the year are organized to help raise money for the shelter and outreach programs, and are crucial to the ongoing operation. To function, Gillian's Place must raise $500,000 per year to keep the programs and services running. These events help bring the community together. St. Catharines Mayor, Walter Sendzik is one figure in the community who has been known for his contribution to Gillian's Place. Sendzik says, "It helps raise awareness of the work we still have to do to end violence against women and girls." The more people within the community that know Gillian's Place exists, the harder it is to ignore the problem of domestic violence. Word of mouth is a large contributor in the success of these events. DuRoss says, "If we are on people's radar, and people hear about the fantastic work going on behind the scenes here, the more likely they are to refer us to a friend in need or identify us as a potential place to donate to in the future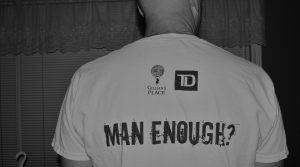 "WALK A MILE IN HER SHOES"
For the past 11 years, Gillian's Place has held the fundraising event, "Walk a Mile in HER Shoes" to help end the violence against women and children. This past year, over 250 men of all ages participated in the event, which is held every October in St. Catharines. From first timers to high heeled veterans, all men are encouraged to come out and support the cause.
Spectators cheer on the men as a marching band from a local high school lead the march down the corridor. Men and women raised signs stating "No Excuse for Abuse," "Put Yourself in HER Shoes," and "I Am Man Enough."
This year the amount raised for the event totalled $90,000, which was an increase from the previous years.
The walk originally started in the downtown market square with only 20-30 participants. In recent years, the Pen Centre Mall has become home to the event as one lap around the mall is equal to one mile.
Throughout the years, many men have noted that the women in their own lives are the reason that they chose to support the cause. Rob Apfelbeck, a local small business owner and long-time participant in the walk said, "It's more about bringing awareness to an issue that really should not exist."
From only a few participants, to teams ranging in men all ages, this cause had gained much attention within the Niagara Region. The mayor of St. Catharines is also a familiar voice in this event and said, "I'm always proud to see many men and boys participate in this event and the collective impact of our community." Both Sendzik and local member of parliament, Chris Bittle, were among the more recognized participants, ambassadors, and speakers at the event.
There has also been an increase in the number of sponsors over the years, with larger organizations including Niagara Casino, TD Bank, and Zehrs Market participating.
"Walk a Mile in HER Shoes" fundraising events have been completed all over North America in hopes of giving women and children a better future.
WRAPPED IN COURAGE
November is Woman Abuse Prevention Month. "Wrapped in Courage" is a campaign originally launched by The Ontario Association of Interval and Transition Houses (OAITH) and supported by local shelters. Gillian's Place organizes a pancake breakfast every year ass the kickoff to the campaign, which is supported around the province of Ontario. Women and men came to support the organization with a $10 entrance fee which gives them a pancake breakfast and a purple scarf to wear. The purple scarf worn around the province as a show of support for abused women and children. Functions like these raise their profile in the community.
"WE STILL HAVE WORK TO DO"
There are lots of ways that a community can support their local women's shelter. One main way is to contribute financially. There is not a certain financial amount that places like Gillian' Place accept. Every dollar that is donated is used by the organization in the hopes of ending violence against women. Although money is not just the only answer as to how someone can contribute. DuRoss mentions that "Attending our events, following us on social media to help spread the word, or inviting us into your school or workplace to speak on the topic of domestic violence," are all ways to support Gillian's Place. It is about the impact that not only Gillian's Place can have on the community and the women they help, but one that the community can have on Gillian's Place.
survey software