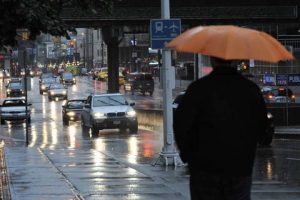 Looks like the rain in the GTA will not be ending any time soon
Environment Canada has issued a rainfall warning for much of southern Ontario with up to 50 mm possible in some areas.
The warning said that periods of rain will occur throughout the day with some areas experiencing thunderstorm activity.
The warning also said that flooding may occur in low-lying areas. Residents have been warned not to go near rivers, creeks or culverts.
The warning includes the Greater Toronto Area and extends from Belleville in the east, south to Windsor and north to the Bruce Peninsula and Barrie.
The Toronto forecast for April 9 calls for a high of 14 C with the drizzle changing to rain by about noon and thunderstorms in some areas.
Forecast said that there will be a break from the rain this weekend, but the rain will start again on Monday.