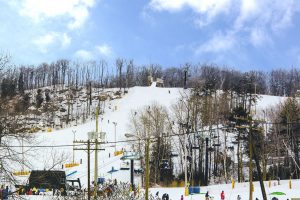 As most people lament this long and endless winter, some local businesses are quietly rubbing their hands together – and it's not because they are trying to stay warm.
Welcoming the snow
Jack Frost's early arrival coupled with heavy snowfall and persistently cold temperatures has most people feeling the winter blues, but businesses that rely on a real Canadian winter are all smiles.
"I wish we could have weather like this every year," said Sean Durkin, area manager for Kelso/Glen Eden.
The ski centre opened on Dec. 13, its earliest start in eight years. With a solid snow base of 80cm, March break is looking good, Durkin said.
Glen Eden Snow Report
Another local business that helps skiers and snowboarders enjoy the powder is Corbetts, located in Oakville.
Dave Gould, a member of the Corbetts staff, had this to say about the winter weather.
Snow removal bonanza
This year's nasty storms have also presented residents with snow-removal challenges.
Landscaping companies often struggle to find work as snow removers in the winter, but not this year.
The driver of the truck in the video below was too busy to give an interview. "My boss is on the line and I gotta get moving to the next job," he said.
Snow removal companies in Oakville
Snowblower, shovel and salt sales have been brisk at Oakville's Home Depot.
In fact, this week's storm saw an avalanche of customers pour into the store, and the snowblower inventory is getting low, according to staff.
Snowblower Buying Guide
Keeping everyone safe
Bad weather isn't a financial blessing for everyone, as shoppers often stay home when the weather gets nasty. Some businesses will even put people ahead of profits and decide to close early in order to keep everyone safe.
iGita Studio runs yoga classes in Oakville. The owners sent this message out to their customers on Feb. 6.
"iGita will be closed this evening due to the lovely weather. We've decided it's safer for everyone to stay home and cuddle with loved ones this evening.
Be mindful when you're out shoveling and be kind to your backs please!!"
With love and light,
Maureen & Shawn
featured image source: blog.homestars.com