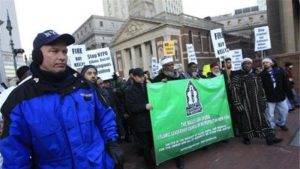 The United States of America strikes again. American citizens, who also happen to be Muslim, are under surveillance in an effort to prevent terrorism.
The question of whether there is any evidence that can lead the NYPD to believe Muslim Americans should be under surveillance is an irrelevant one. The United States rarely needs evidence to monitor a community they believe is associated with violence and terrorist activity.
In 2001, following the September 11 terrorist attacks, the NYPD launched a secret surveillance program that monitored Muslim communities. Up until 2007, corporations such as American Airlines were supporting the initiative.
In August of last year, Bloomberg and Microsoft happily announced they their role in helping install over 3,000 cameras and 2,600 radiation detectors through the city in order to prevent terrorism.
The surveillance program was first fully reported on in 2011, when the Associated Press revealed the NYPD's attempts at tracking the actions and communications of Muslims in New York, Pennsylvania and New Jersey.
In a new report called Mapping Muslims, the effects of the NYPD's spying program on every aspect of the lives of Muslim Americans are shown. Released by the Muslim American Civil Coalition, the Creating Law Enforcement Accountability Project (CLEAR), and the Asian American Legal Defense Fund, the report sheds light on the NYPD's infiltration, from colleges and universities to local shops and mosques. Fifty-seven Muslims, mostly living in New York City, were interviewed, among them students, lawyers, teachers and business owners.
"Divisive, discriminatory and deeply oppressive"
Due to what can only be called paranoid actions taken against harmless individuals who are citizens of America, they face harassment, oppression and civil liberties violations. And frankly, the United States is only hurting its own citizens, who according to an article in Salon by Falguni A. Sheth, are among the least likely terrorists.
"It is insufficient to call the Mapping Muslims or the NYPD's counterterrorism project ridiculous or nonsensical," Sheth writes. "It is much more than that. It is dangerous, divisive, discriminatory, and deeply oppressive. It is part and parcel of a culture of fear that has been hyped up and amplified with the support and funding for Islamophobic policies on the part of the U.S. government."
What's worse is that the most targeted of all Muslims are youth and students. College students have it the hardest, as their opinions and ideas become stifled, having to resist exploring and engaging inside and outside classroom environments due to the fear of surveillance.
In a recent article by Aljazeera, a professor from Brooklyn College said Muslim students are getting an inferior education because of this surveillance.
Simply appearing Muslim can lead to "justified" racial profiling in the name of crime and terrorism prevention. In other words, Muslim Americans have to be wary of interacting with others at the mosque and during religious events. They have to worry when stating their opinion about political issues regarding Islam.
They have to think twice about how they dress and they have to be mindful when speaking about their faith.
Simply put, they have to prepare for being labeled a terrorist, not because they are, but because in the eyes of some, they just might be.