The Toronto International Film Festival has announced it will screen 20-per-cent fewer films at this year's annual film festival and that two of its 16 programs—Vanguard and City to City—have been canceled.
In a press release issued early this morning, festival organizers explained that the cutbacks are part of a larger effort to narrow down the focus of the event and refine its purpose.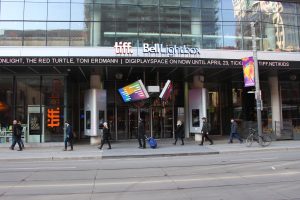 Promising a more "tightly curated edition" this year, the press release also says that two of the venues used last year – The Ted Rogers Theatre at 506 Bloor St. W – and the University of Toronto's Isabel Bader Theatre at 93 Charles St., W – are no longer participating in TIFF.
Reaction to announcements has been mixed.
"The culture at TIFF has steadily grown more about the red carpet and not about the movies," says John Kneller, professor of Film and Television at Sheridan College. "It's nowhere near as bad as Cannes but it seems to be heading in that direction. All about the business and not so much about the artistry."
Debuted modestly in 1976, TIFF is now one of the largest publicly attended film festivals in the world. In 2015, it welcomed an estimated 480,000 attendees at 28 different locations scattered throughout Toronto. Far greater in size than SXSW, Sundance, Tribeca, and the Berlin Film Festival, TIFF attracts a wide range of movie stars, critics, and moviegoers alike.
Its growth has helped to put Toronto on the map but has also alienated some members of the Canadian Film and TV industry, who still recall when the festival was more 'grassroots' in its approach. In Kneller's view, pandering to commercial audiences has really hurt TIFF artistically.
"It's less relevant now than it once was."
Toronto has long had the problem of feeling that it has to attract American filmmakers and celebrities to feel "truly world class." In adopting that stance, festival organizers have effectively turned their backs on Canadian filmmakers."
Kneller isn't the first to criticize TIFF for being too commercial. In a fall issue of Variety Magazine last year, chief film critic Peter Debruge scolded TIFF organizers for paying too much attention to award show hopefuls. Unhappy with how the event was curated that year, Debruge asked: "Has the Toronto International Film Festival gotten too big for its own (or anybody's) good?"
The changes announced earlier today are an indication that TIFF may not be keen to repeat those same mistakes. According to Cameron Bailey, artistic director of TIFF, the changes are about bringing focus to TIFF's choices while maintaining diversity.
"Whether you're a festival veteran seeing 30 films or a first-timer, you'll still be able to see a wide range of movies and trust in our tighter curation," Bailey told Global News.
"Instead they've chosen to "go Hollywood."
For many, however, the answer is not less volume. It's more of a certain quality and more support for Canadian filmmakers. "They should have a fund to help filmmakers," says Kneller.  "They should program more Canadian work and support Canadian work more as part of their mandate. They are funded by the government so they should serve the citizens.  Instead they've chosen to "go Hollywood."