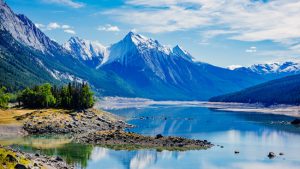 To mark Canada's 150th Birthday a revised and expanded version of National Geographic's best-selling guidebook to Canada's national parks and marine conservation areas is now available.
In collaboration with National Geographic, Parks Canada has launched a new Guide to the National Historic Sites of Canada. This release marks the Centennial of Canada's first national historic site, Fort Anne in Annapolis Royal, Nova Scotia, which first opened in 1917.
An expanded second edition of the 'National Geographic Guide to the National Parks of Canada' features sections on five newly created parks and reserves including Rouge National Urban Park near Toronto. Two new parks will open up on the east coast, Mealy Mountains National Park Reserve in Labrador and Sable Island National Park Reserve off the coast of Nova Scotia. The other two parks are in the north, Qausuittuq National Park in Nunavut and Naats'ihch'oh National Park Reserve in the Northwest Territories.
Interesting events and activities are going to take place at all the 236 locations covered in "National Geographic Guide to the Natural Historic Sites of Canada,
The federal government is marking Canada's 150th birthday by offering free admission to national parks, historic sites and marine conservation areas operated by Parks Canada for the whole year.
According to Parks Canada, around 900,000 people ordered a free discovery pass in the first two weeks after they became available.  This is of great concern for the conservationists because more tourists may affect the ecological integrity of some of the more popular parks.
Ben Gadd,  who is a retired nature guide and author of "Handbook of the Canadian Rockies," said he is worried about increased vehicle traffic. He expressed his concern that there should be enough staff to maintain the parks and explain the rules to visitors.
The government has predicted visits to national parks and historic sites this year are likely to go up. Last year there were approximately 24.5 million visitors. Banff National Park, located in Alberta, is on the "Best of the World" list of 21 must-see places in 2017 according to National Geographic Traveler Magazine and Parks Canada has been busy promoting this on social media as part of the Canada 150 campaign.
The guidebook is available on the shop.nationalgeographic.com website for 26 dollars.