Toronto's highways, rampant with crippling traffic bottlenecks, are causing over 7 million hours in delays annually, wasting over 22 million litres of fuel, and accounting for over $181-million in lost value of time, says a new report published Wednesday by the Canadian Automobile Association (CAA).
The report analyzed major highways across Canada and ranked the 20 worst bottlenecks across the country. Among the top 20, stretches of Toronto highways held 10 spots. A 15-kilometre section of the 401 from the 427 to Yonge Street topped out at number 1 on the list.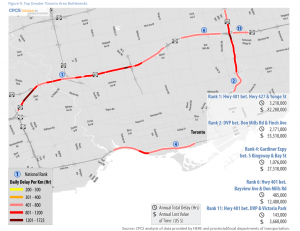 A 60-minute two-way trip in Toronto bloats to 96 minutes of travel time when considering these traffic bottlenecks – an impact that is the highest among Canadian cities.
The remaining spots were taken mostly by areas of Vancouver and Montreal.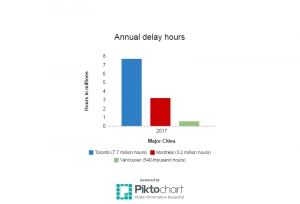 The full Canadian top-20 is as follows:
Toronto: Hwy 401 from Hwy 427 to Yonge St
Toronto: DVP/404 from Don Mills Rd to Finch Ave
Montreal: Hwy 40 from Blvd Pie-IX to Hwy 520
Toronto: Gardiner Expy from S Kingsway to Bay St
Montreal: Hwy 15 from Hwy 40 to Chemin de la Côte Saint-Luc
Toronto: Hwy 401 from Bayview Ave to Don Mills
Toronto: Hwy 409 from Hwy 401 to Kipling Ave
Montreal: Hwy 25 from Ave Souligny to Beaubien E
Vancouver: Granville St at SW Marine Dr
Vancouver: W Georgia St from Seymour St to W Pender St
Toronto: Hwy 401 from DVP to Victoria Park Ave
Toronto: Black Creek Dr from Weston Rd to Tretheway Dr
Toronto: Hwy 401 from Mavis Rd to McLaughlin Rd
Montreal: Hwy 40 from Hwy 520 to Blvd Cavendish
Vancouver: Granville St from W Broadway St to W 16th Avenue
Montreal: Hwy 20 near 1re Ave
Quebec City: Hwy 73 from Chemin des Quatres Bourgeois to Dalquier
Toronto: Hwy 401 interchange at Hwy 427
Toronto: Hwy 400 at Hwy 401
Vancouver: George Massey Tunnel on Hwy 99
The full CAA report can be found here.
The bottleneck delays in Toronto are on par with the delays found in metro New York City, while the Montreal delays are akin to highways leading in and out of Boston – two cities with far greater populations than Toronto and Montreal.
The report highlights a troubling trend across the country's major cities, especially in Toronto with a continuously growing population and aging infrastructure. The news begs the question, how do we fix this?
Solving the Problem: More Roads or Toll Routes?
For CAA Spokesman Ian Jack, identifying the problem is the first step. "What we are trying to do here, with the report, is identifying the problem and how to reduce the traffic jams we do have in those locations most efficiently, with technology and innovations," he said.
"It may be a matter of pouring concrete and asphalt in some cases, but there are a lot of other solutions as well,"  says Jack.
CAA and urban planners in cities like Toronto are looking outward for ideas and inspiration, analyzing what other major cities across the globe are doing to alleviate their own traffic woes.
The mayor's office at the City of Toronto is aware of the extreme traffic problems plaguing the city, surely as are the millions that use Toronto's highways daily. The City has made efforts to improve transit services with the aim of alleviating these traffic bottlenecks.
Most recently, Mayor John Tory unveiled plans to add toll routes to city highways designed to raise funds for future transit projects. The City of Toronto believes that the answers to the traffic bottlenecks are transportation alternatives like public transit, bike lanes, and carpooling lanes.
On the other hand, some experts are tempering the findings with caution.
Brent Toderian, the former chief city planner of Vancouver, warned that congestion is not entirely avoidable, especially on highways which he thinks should be viewed differently, as they are specifically designed for moving high amounts of congestion.
"Successful cities have congestion…" he said, "if you don't have any of it, you die."