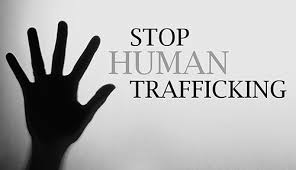 On January 11th 2010, the White House declared January to be the National Slavery and Human Trafficking Awareness Month. North of the border, bipartisan efforts in Ontario have recently gained momentum in addressing the issue of modern slavery. Despite Ontario's reputation as a relatively safer place, the province is not immune from the pandemic of human trafficking. Quite the opposite; 65% of human trafficking incidents reported by police in Canada have taken place in Ontario, despite the province representing 38% of the national population. By far, a majority of the forced labour performed by trafficked humans is sexual slavery. While human trafficking is popularly associated with international criminal activity, the reality is that approximately 93% of the victims of trafficking in Canada are Canadian women themselves.
Young girls, particularly those who have ran away from their parents or foster homes, are lured by traffickers who predominantly recruit online with promises of love, wealth and security. Once "recruited" into the sex trade, the women are often physically abused, permanently scarred or "branded" by their traffickers, and forcibly confined to hotel rooms and forced to perform sexual services endlessly. According to the Ontario Native Women's Association, Aboriginal women are disproportionately represented among female victims of trafficking, owing in large part to systemic racism.
Halton
Although cities like Oakville, Milton and Burlington do not have a reputation for crime, human trafficking is prevalent in the municipal region. Much of this human trafficking is based on sexual slavery, with women, including teenagers, being forced into prostitution to earn money for their traffickers. While there are no apparent "red-light districts" in the region, a majority of this sexual slavery hides in plain sight. How is this possible? One case in point is the so-called Dynasty Wellness Centre in Milton. In March of 2016, this massage parlour was raided by the police, with the owner and a man suspected of purchasing sexual services arrested. But shady massage parlours are not the sole location of sexual trafficking in Halton. What makes human trafficking prevalent in Halton is its proximity to highway corridors, namely the QEW and 401, and the numerous motels and hotels that accompany the region.
Actions taken
In 2013, the Halton police department created the Human Trafficking Unit to combat human trafficking with an emphasis on sexual slavery. Since then, the number of cases filed has boomed: there were 80 cases files and 10 charges laid in 2013; in 2014, the unit had 200 files and 50 charges laid; by 2015, there were 175 files and 55 charges laid. In order to bolster its efforts to combat human trafficking, Halton police recruited Martin Dick, a former homicide detective from the UK, to spearhead the unit. Help has also come in the promise of legislation made to tackle this. In February 2016, Laurie Scott, an MPP from Haliburton-Kawartha Lakes-Brock, proposed Bill 158, otherwise known as the Saving the Girl Next Door Act. In an interview, Scott stated she was originally naïve about the issue before a lawyer she is acquainted with informed her of the nature of the trafficking crisis.
Scott said that the rate of trafficking is "growing at a rate that is horrific". The objective of Bill 158 is three-fold: first, it would promote increased public awareness about the trafficking crisis; second, it would provide trafficking victims with a restraining order against their pimps; and third, it would include former traffickers into the sex offender registry, allowing the public to know if someone in their community was a trafficker. In June of 2016, the Ontario provincial government initiated a $72 million anti-trafficking strategy, a decision that was met with praise from Halton region law enforcement. According to Scott, the area where sex trafficking is most prevalent in Ontario is the municipalities along the 401 corridor, with the Peel region accounting for "62.4% of court cases involving sex trafficking in Ontario". Since the Halton region is adjacent to Peel, the Oakville city council has enthusiastically complied with Bill 158, and voted in July of 2016 to support Laurie Scott's legislation. Ward 5 Town Councillor Marc Grant moved to support the bill, saying that it would provide law enforcement with the means to "combat the exploitation of a vulnerable sector and protect our daughters and sisters and friends".