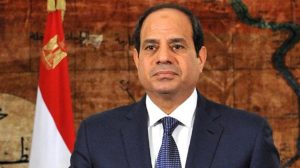 Russian President Vladimir Putin says he will back Egypt's military chief Abdul Fattah al-Sisi if he runs for president.
Sisi has not officially declared himself a candidate in Egypt's 2014 presidential election, but BBC News reports he's expected to and is a popular candidate.
According to BBC News, he has already received public support from Egypt's Supreme Council of the Armed Forces, as well as groups opposed to an Islamic state. Many Egyptians say Sisi is the country's saviour after he ousted Morsi and took power from the Muslim Brotherhood, reports Al Jazeera.
Others oppose the military leader, calling the ouster of Morsi a military coup d'etat.
Putin said Sisi had Russia's support when Russian and Egyptian representatives met Feb. 13 to negotiate a $2-billion arms deal, reports Al Jazeera. The deal comes after the US withheld its annual aid to Egypt earlier this year.
Russia is making closer ties with Egypt, says BBC Correspondent Steve Rosenburg, to increase its influence in the Middle East. And right now is an ideal time because Egypt is looking to fill the financial gap left by strained US relations.
The timeline below outlines Egypt's struggle with democracy, as well as its changing foreign relations.