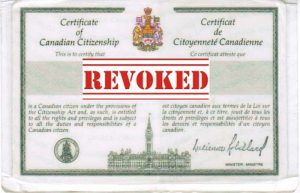 Changes to Canada's Citizenship Act will crack down on citizenship fraud, tighten residency requirements and reduce processing times, according to the Harper government.
Canada's Citizenship and Immigration Minister Chris Alexander announced the legislation on Feb. 6, marking the first reform to the Citizenship Act since 1977.
The following changes will be seen under The Strengthening Canadian Citizenship Act:
Longer processing. Immigrants will be required to spend four of six years living in Canada before they can apply for citizenship, compared to the current requirement of three out of four years.
Language requirements. Immigrants between the age of 14-64 will have to pass a language test instead of the current age range of 15-54.
Citizenship can be revoked. The immigration minister will have the ability to revoke citizenship from dual citizens who have been convicted of terrorism, treason, or spying.
Foreign charges. People with foreign criminal charges and convictions will not be granted citizenship. The current laws only deny those with domestic criminal charges and convictions.
Military applicants will be fast-tracked. Permanent residents serving in the Canadian Armed Forces will have their applications fast-tracked.
Alexander is hoping that the four-year requirement will decrease wait time once the application goes through instead of the current two to three-year waiting time.
Under the new legislation, people charged with citizenship fraud will be faced with a penalty that can range from a $1,000 fine and up to one year in jail to $100,000 and five years in jail.
The changes also mean citizenship can be given to "Lost Canadians" such as war brides or other individuals in complicated circumstances, CBC reports.
According to the Canadian Press, Alexander said the changes to the legislation will ensure Canadian citizenship has value.
NDP citizenship and immigration critic Lysanne Blanchette-Lamoth told CBC she was wary of the reform, saying the Conservatives do not have a good track record when it comes to immigration programs.
Opposition parties have also raised concerns about the power of the immigration minister to revoke citizenship under the new changes. Blanchette-Lamoth said they want to make sure this power will still respect the Charter of Rights and Freedoms.
Liberal immigration critic John McCallum also told CBC News that he has a hard time believing the waiting times will be reduced.