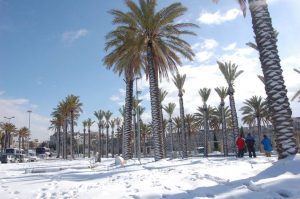 This weekend, Torontonians will be ditching their parkas and donning their sunglasses as temperatures increase from Tuesday's feels-like  minus 30 degrees Celsius to Saturday's predicted plus 10.
But such extreme highs and lows are not uncommon. Right now, people across the world are living through heat waves, blizzards and tidal floods.
For many countries, bizarre temperatures and extreme weather events are becoming the new norm. The period between 1983 and 2012 is expected to be the warmest in 1,400 years, according to the Intergovernmental Panel on Climate Change's fifth assessment report.
Records smashed
And 2013 broke several records:
Typhoon Haiyan, which struck the Philippines in November 2013, was the strongest storm to reach land, ever.
The United States saw more daily record lows than record highs — something that hasn't happened since 1993 — according to the National Climatic Data Center.
Spain's March and China's May were the wettest on record for both countries.
2013 was Australia's hottest year on record.
Egypt had snow for the first time in 112 years.
Interactive map
The map below shows some of last year's most extreme weather events. The map doesn't represent all weather events in 2013 — and so far in 2014 — but does show how most of the world and millions of people have been impacted by unexpected temperatures, storms and disasters.
Click the map to find out more about extreme weather events in 2013 and so far in 2014.