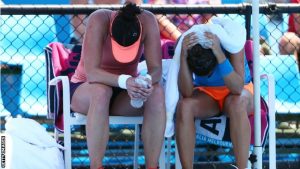 Australian Open officials are under fire for waiting until a player and a ball boy fainted during the tournament before putting a halt to the games due to heat waves.
The tournament, being held in Melbourne, is seeing temperatures of over 40 C for a third day in a row.
Organizers of the Australian Open enforced the extreme heat policy by suspending games on outside courts until the early evening. The games were still held at Rod Laver Arena and Hisense Arena with the roofs closed.
The Climate Council of Australia said that the number of hot days in the country has 'more than doubled.' Australia's hottest year was on the record in 2013. The Climate Council says the extreme heat conditions are due to climate change and greenhouse gases.
Vancouver's upcoming star Vasek Pospisil was forced to withdraw from the tournament due to a lingering back injury, while a fellow Canadian Milos Raonic secured a place in fourth round.